cleaning out the home is neccessary
you need to clear the home?
Dealing with the remaining items in an estate can often be a daunting and emotionally taxing process, especially when there's a significant amount to sort through. This is where Integrity Ventures Group steps in to ease the burden and streamline the process for you. Our services are designed to handle every aspect of this task, ensuring a hassle-free experience.
At Integrity Ventures Group, we specialize in managing the clearing out of estates, meticulously organizing and overseeing every detail. Our team of professionals is adept at scheduling and conducting the entire clearing process, from sorting through items to arranging their sale or disposal. We understand the emotional and practical complexities involved in handling a loved one's possessions, and we approach this task with sensitivity and efficiency.
WHAT CITIES CAN YOU FIND OUR ASSISTANCE?
HOW CAN WE HELP YOU WITH probate?
Although you can choose a traditional agent, it's important to acknowledge that they might not have the necessary expertise to handle the complexities of Probate, which can result in increased stress and expenses.
At IV Group, we operate as a united team, leveraging our individual strengths to offer comprehensive support. Our goal is to maximize our efficiency in assisting you while reducing stress, all without any additional cost to you. What might take you months to navigate and plan on your own, we can accomplish in a matter of days and weeks. The difference is in our team's deep and hearty experience in complex court matters.
HOW CAN WE HELP YOU WITH probate?
DOWNLOAD YOUR PROBATE CHECKLIST TODAY.
Become a part of the numerous executors who have already benefited from our free guide. Elevate your probate process with our complimentary probate checklist, designed to guide you step by step through the process of selling your real estate property today. Download it now and streamline your journey through probate.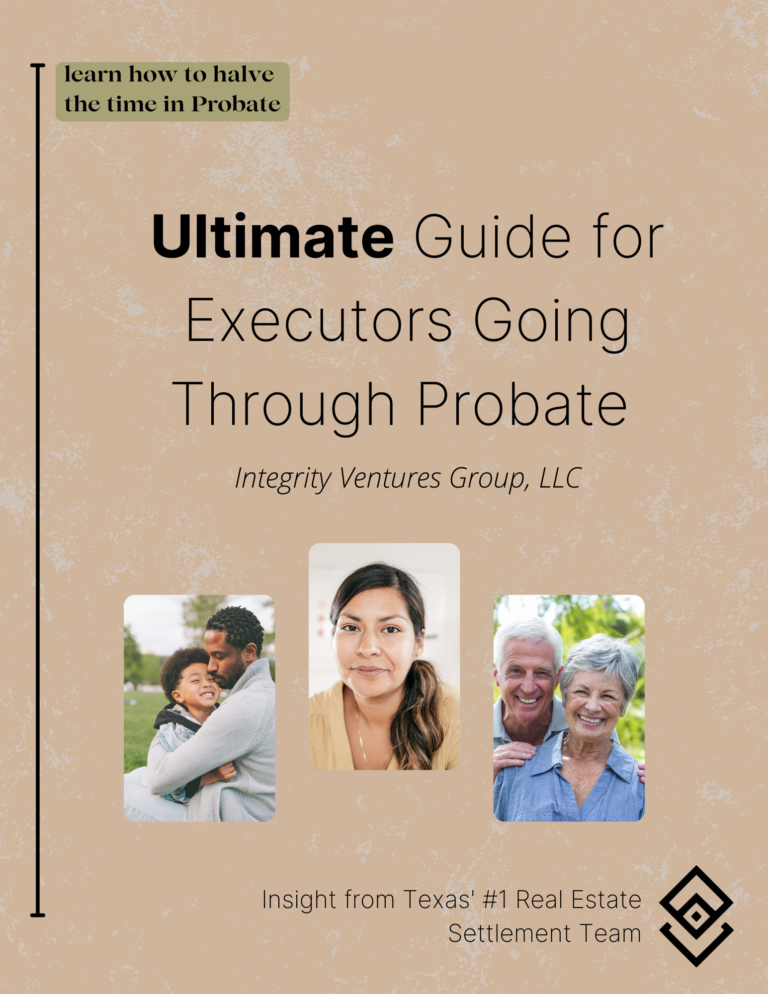 It all starts with a plan..
Managing an estate clean-out during probate can be a taxing task, especially when dealing with numerous items. Integrity Ventures Group offers a streamlined solution to this challenge. Our experienced team efficiently schedules and completes the clean-out process, handling everything from sorting to disposal with sensitivity and professionalism. We also specialize in organizing estate sales, where experts appraise and sell items, ensuring you get the best value. This not only simplifies the process for you but also maximizes the estate's potential. With our comprehensive services and exclusive discounts, you can navigate this period with ease and confidence, knowing that every aspect of the estate is in capable hands.